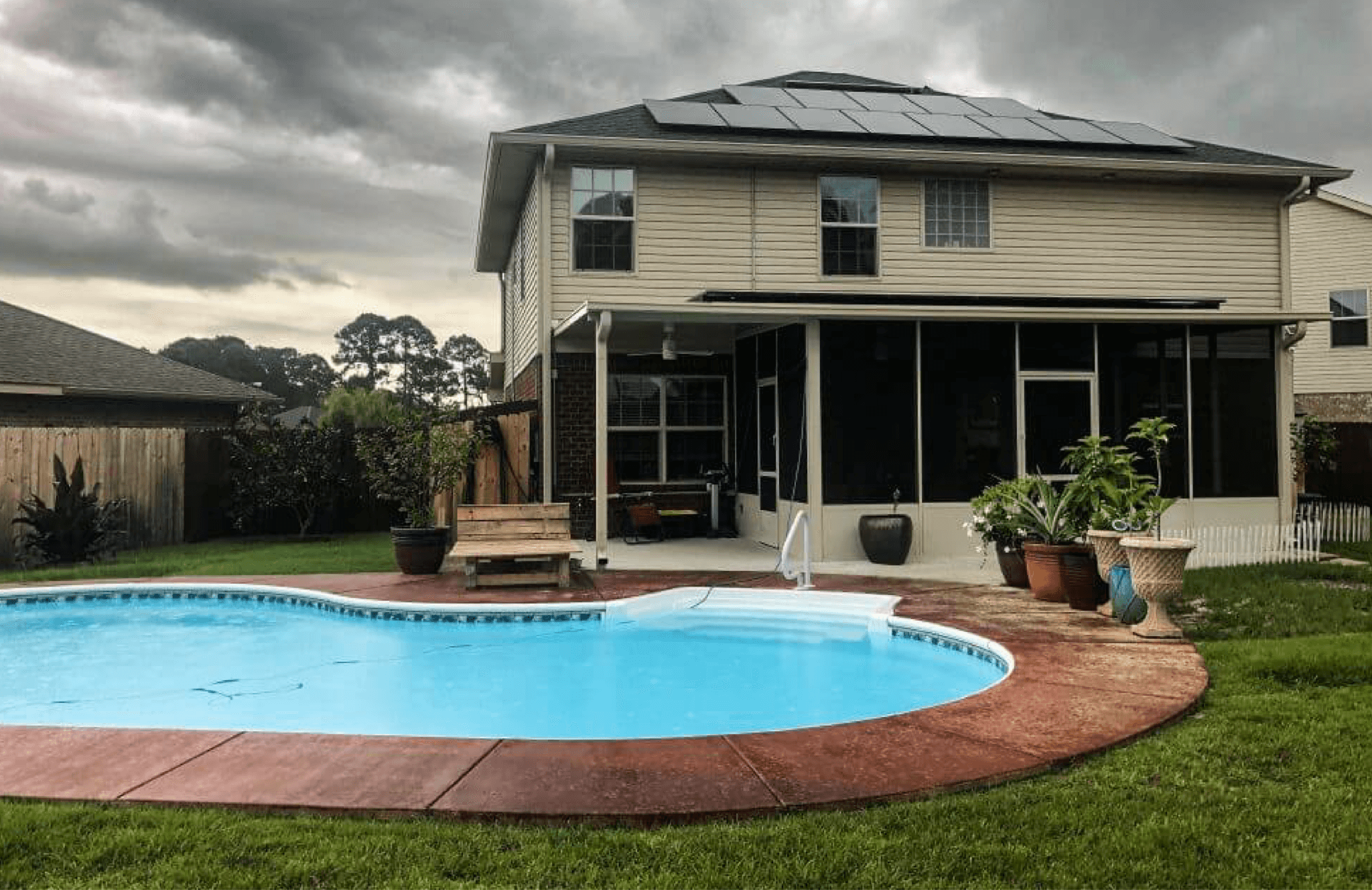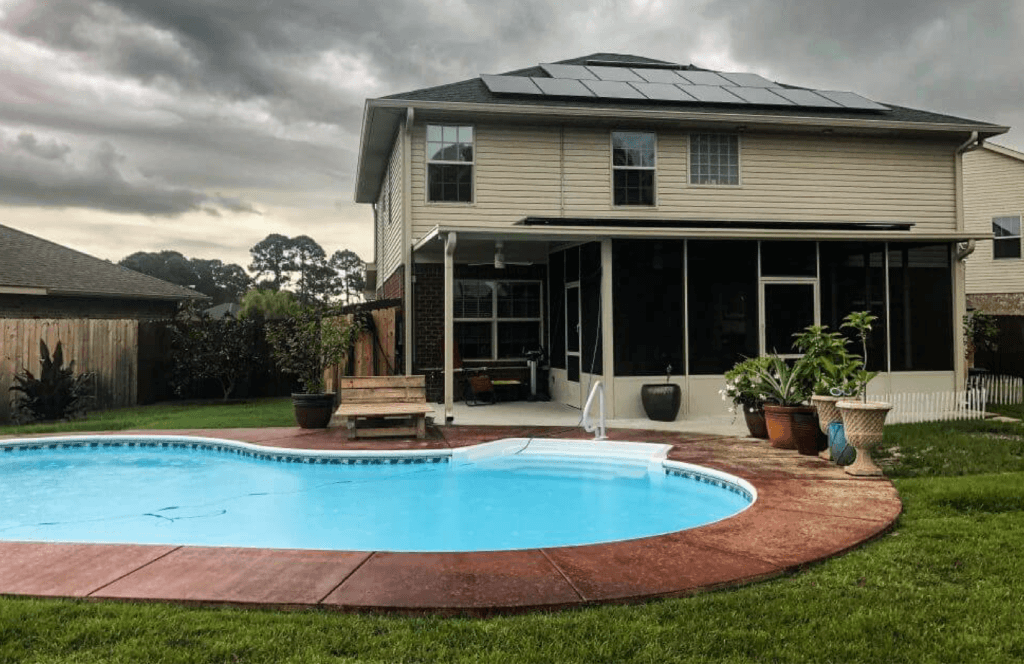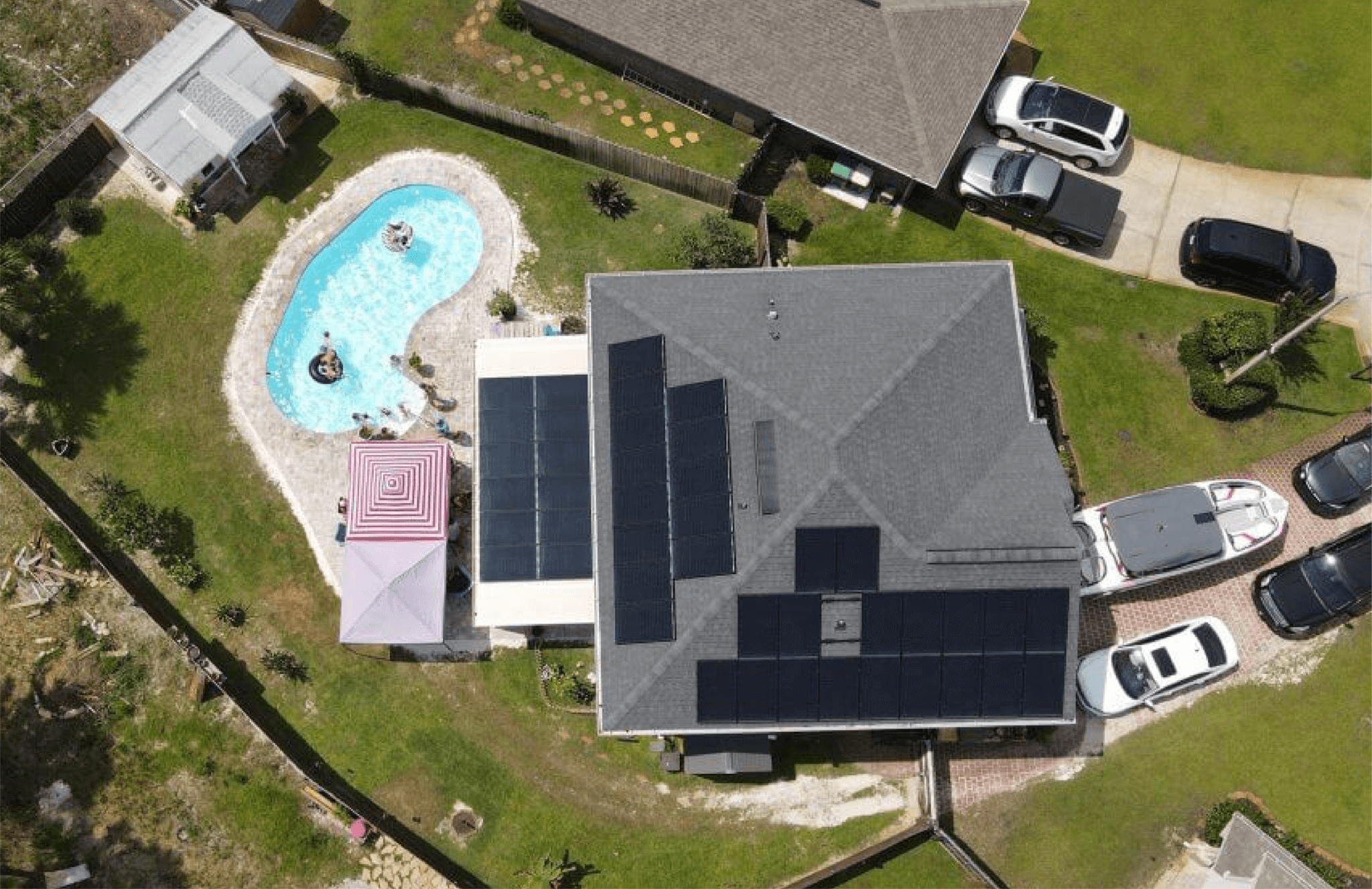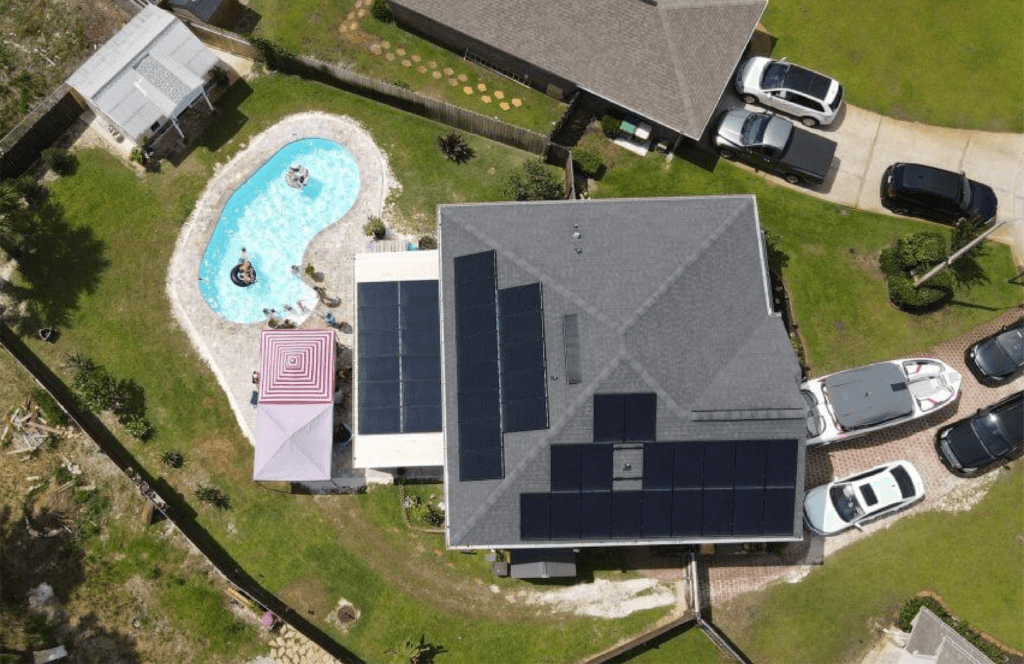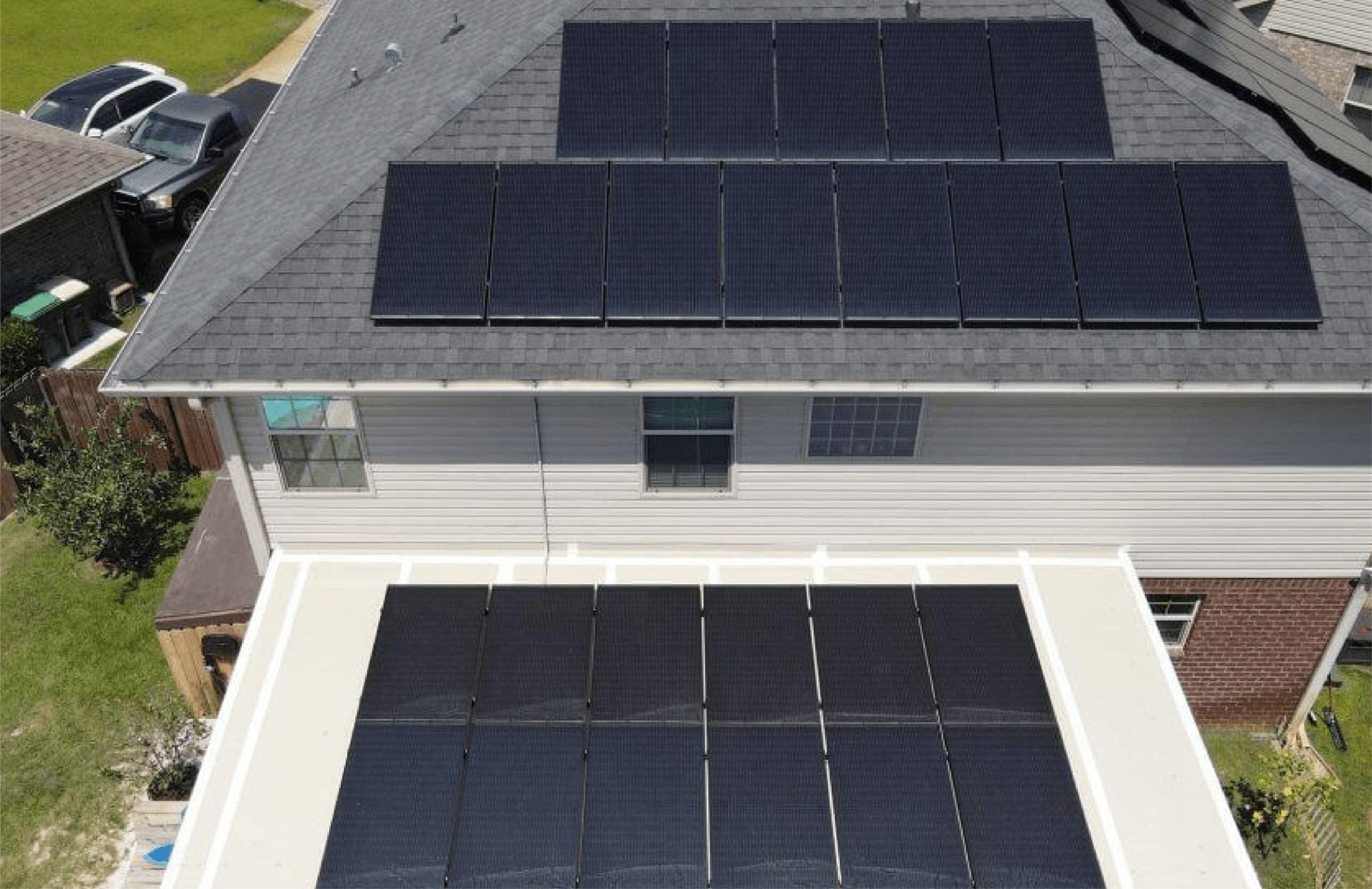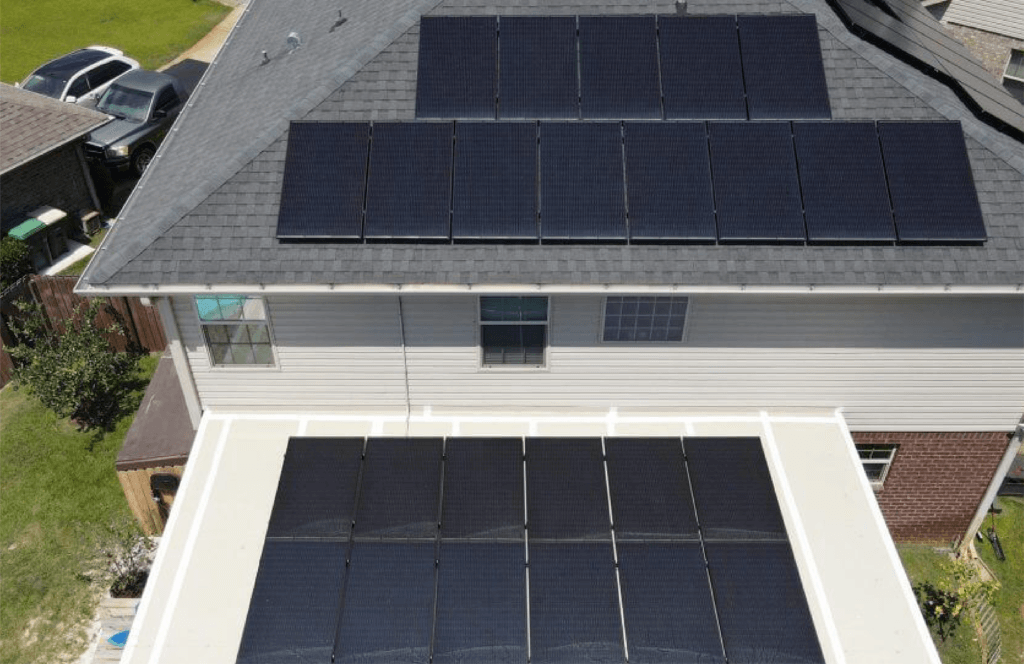 In the summer of 2020, we sat down with our client, Jeremy Hughes, to talk about his experience switching to solar PV at his home in Navarre, Florida.
*This Residential Case Study interview has been edited for length and clarity
Can you describe your lifestyle before you installed solar?
We were on Energy Select with Gulf Power. You had to monitor what you were doing throughout the day based on what energy levels you were in. You had to really tailor your power and minimize your movement and operations around the house.
When we started to look into this, [we] started looking at [our] patterns, [our] routines, and [we could] definitely see [that we] were using a lot more electricity than [we] really anticipated. But now we've already adjusted just about as much as we care to, and we're ecstatic. We haven't paid more than the connection fee since we started with solar. We continue to do some minor changes around the house to help with energy efficiency and drive our numbers down, but we're running the air conditioner cooler than we used to. [Solar] just [gives] you the opportunity to not be as regimented in your lifestyle because of the energy company.
It sounds like you've experienced a lot less anxiety about using power now that you've made the switch.
That's a good term. It's a lot less anxiety. It's something that can control your life because if you don't watch it, you can turn around and have a $300, $400, or $500 electric bill and that's not something a lot of families can absorb.
Where did you start your search for a contractor?
We had a talked with another couple. Within a few days I asked for an estimate [from another company] and you very quickly [could] see they [were] all about upselling you. They didn't look at the conditions of what we wanted. They just said, here is your usage based on our numbers and this is what we can get you. We got a quote from them, but a coworker of my wife is the one that got us in contact with Brian from SunFarm.
I didn't even look for anybody else because after talking with Brian and SunFarm [they're] not going to try and sell you anything more than you need. It's not about selling you to the max. That's what I enjoyed about Brian. He had very straightforward, honest answers and he knew the product. He was in the process of putting solar on his house himself. The other person I talked to didn't even have solar on their house. I felt confident with Brian and SunFarm from the very beginning. There's nothing hidden. It was fantastic.
If you had a friend or neighbor interested in going solar, why would you recommend SunFarm Energy?
My first thing is I encourage you to talk to other contractors, but talk to SunFarm, and when it's all said and done, sit down and look at it. When you compare apples to apples you can see where the SunFarm advantage is because one of the things that the other contractors like to do is try to compare apples and oranges. Take away all the niceties and know the price per panel [and] price per kilowatt in your system.
My coworkers found that when it's all said and done [the other company] may be giving me a little bit more, like a check back, a refund, or cash back, but I'm still paying more for a system than what I got with SunFarm. So I just I encourage everyone to talk to SunFarm because [they are] honest and upfront. Why charge someone more just so you can collect a dollar or two more? SunFarm was honest with us.
"I encourage everyone to talk with SunFarm because they are honest and up front."
Was there anything that surprised you during the process?
Our home is a two-story and our area that was ideal for solar was not big enough to have a system that would bring us to zero. It was all about timing and at the exact same time we had a contract to put a Florida sunroom on the back of our home. Brian said, 'look Jeremy, can we put panels up there? It's facing south, southwest so it's ideal it's just lower than the normal roof line by one story.' Brian took the time to contact our contractors who were doing the sunroom and he got the specifications, worked with the engineering department from both sides, and said 'yes we can put solar panels on it, and this is how they need to be mounted.'
Brian went the extra mile to say, this is what our options are to get you closer to zero and this is what we're willing to do.
How would you describe your overall experience?
When it's all said and done I couldn't be more happy with my system because of how clean it was. From the very beginning of meeting with Brian, to the very end, it's been an amazing journey and it still doesn't stop. I had a problem with the consumption, and they came out and looked at it and got it fixed. I was really surprised at how everything worked out just as Brian and all of them said it would.
I'm really pleased with how outside of the box Brian's thinking was. The thought of using any available space that you possibly can and how you can use the panels beyond just a functioning solar panel, I think it's brilliant. The one thing I was kind of discouraged about was if I can't get to zero, what's the benefit of me going solar? Once they got me to that point where they said we can easily get you there – I'm lovin' it. I actually sit here and look at my usage and it's really cool to be able to turn things off, turn things on, and become more aware of how much power you're actually using.