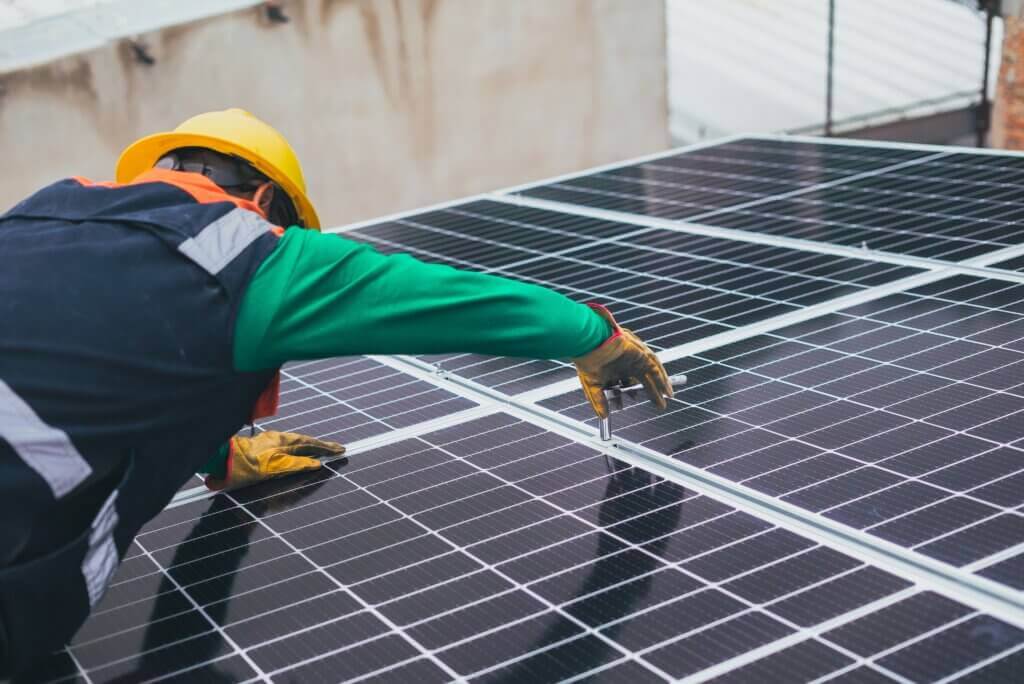 If you have solar, know someone who has solar, or have been considering switching to solar, chances are you've heard about the current fight over net metering in the Florida Legislature.
This session, the Florida Legislature introduced two bills, House Bill 741 and Senate Bill 1024, that propose cuts to the current net metering policies in Florida.
This is a crucial fight for the future of renewable energy in the Sunshine State.
What is Net Metering?
Net metering is a billing mechanism that allows solar customers to be compensated for the excess energy they return to the grid.
Most homes with solar will generate more energy than they can use in a day. That excess energy is sent back onto the grid. Thanks to net metering, customers receive compensation. The utility company then sells that excess energy to nearby neighbors at the retail rate.

Net metering allows solar customers to build up credits towards energy usage. During the evening hours when the sun isn't shining, solar customers pull energy from the grid and can use net metering credits to offset that cost. Currently, net metered customers receive a retail rate of about $0.18 per kWh. However, this amount is different from customer to customer based on what they are currently paying.
What do these net metering bills propose?
---
SB 1024 and HB 741 will slash the rate of compensation from a retail rate to a wholesale rate. This means that customers currently receiving $0.18 per kWh for excess power would instead receive only $0.02 per kWh.
Both bills include a grandfather clause that allows current solar customers to continue utilizing today's net metering rules for the next 20 years. After that 20 year period, the new rate would apply.
In addition, the proposed changes would allow utility companies to impose additional fees on solar customers. This is happening across the country, and right next door in Alabama. In 2021, Alabama Power tacked on a fee of $5.40 per kWh per month and many other utilities are following suit.
For the average customer with a 10 kW system, this means that the base charge for remaining connected to the grid would increase by $54.00 each month. In FPL territory, the cost to remain connected to the grid is about $9.99. If the utility imposes these fees, that base charge would jump to $63.99 per month.
It is important to note that the utility company wrote both of these bills.
Why is there resistance from solar advocates?
---
Solar advocates take issue with the main argument of these bills. Utility companies insist that non-solar customers are being forced to subsidize their solar neighbors. Essentially, folks with solar are able to offset their bill to such an extent that their neighbors have to pick up a greater share of the cost. Utility companies also argue that there is a $30 million cost shift onto ratepayers due to net metering policies. Solar advocates oppose this argument for a few key reasons.
Solar Customers Still Pay Bills & Fees
Even after accounting for the energy generated by solar, solar customers still pay an average bill of about $80 per month. This bill can also increase in the winter and summer months when heating and cooling becomes essential. Solar customers also pay a service charge to remain connected to the grid. The argument that solar customers don't pay their "fair share" just isn't supported by the facts.
Solar Market Penetration is Extremely Low
In Florida, regulated utility companies have only 72,000 net metered customers compared to more than 8.3 million total customers.
It is important to acknowledge that net metering programs can have a negative impact on ratepayers. However, this only begins to occur when penetration of solar reaches about 10% in a given market. Currently, the market penetration of solar in Florida is extremely low. Only 0.86% of regulated utility customers have solar on their homes. That's less than one percent.
Why are these bills problematic for solar homeowners and the solar industry?
---
At their most basic, these bills eliminate consumer choice because they are all but eliminating this key incentive. This dramatically impacts both consumers and the industry.
Consumers will no longer have the option to choose where their energy comes from. Without this incentive, the demand for solar will decrease because the investment is no longer financially feasible. Once demand decreases, solar businesses across the state could close their doors leading to thousands of job losses and billions in economic losses.
What is the impact on solar homeowners?
---
If solar homeowners want to expand the size of their system to accommodate additional loads, like an Electric Vehicle, the slashes to net metering rates weaken the value of that investment.
These bills threaten the solar industry as a whole. If solar companies go out of business, service on existing systems may not be available.
If passed, these policies have the potential to open the floodgates for utilities to impose unfair and unsubstantiated fees on solar customers.
What is the impact on the solar industry?
---
Significant Job Losses
Solar is one of the fastest growing industries in the nation. In Florida, the solar industry employs 40,000 people across the state.
This includes solar installers, business owners, consultants, distributors, salespeople, electricians, and more. If these bills pass, a significant number of jobs will be lost.
Disproportionate Affect on Small Businesses
Small businesses like SunFarm Energy employ an installation team, and an administrative team, that lives and works in the community. These changes could force a business like SunFarm Energy to close its doors while larger nationwide companies will leave to conduct business elsewhere.
The jobs that SunFarm Energy provides could be eliminated and folks may leave the area entirely.
Has this impacted other states?
---
Lawmakers argue that slashing net metering programs had no effect on the solar industry in other parts of the country. This is false. In 2016, Nevada changed their net metering laws and saw 2,500 rooftop solar jobs disappear almost overnight – a 32% loss. This caused both national and local solar companies to leave the state or close their doors altogether. The effect was so drastic that the Nevada Public Service Commission later reversed their decision in 2017 and more favorable rates were restored.
It's important to note that we are already seeing the effects of this policy in our state. For example, the City of Jacksonville offers a glimpse of what a future without net metering might look like. In 2018, the municipal utility changed its net metering policies. The demand for solar plummeted almost overnight and veteran-owned company, A1A solar, laid off half of its 50-person staff.
What can I do?
---
Whether you're a solar homeowner, industry worker, or just a concerned citizen, you can have an impact on these decisions.
Here are some action items you can take right now.
Contact Your Representatives and Elected Officials
The most effective way to fight back against these bills is to contact state representatives. Start with your own elected officials in your area. Not sure who your representatives are? Check out this helpful tool.
If you're a solar homeowner, we've put together some helpful talking points and pre-written scripts that you can use when contacting legislators via email, phone, or tweet. If you're concerned about industry issues, you can also read the industry talking points and include them in your correspondence if you'd like.
It's also important to contact respective committee members who may hear the bills as they move through the legislature. Each bill is scheduled to appear before three committees in each chamber. Use the links below to contact committee members and voice your opposition.
Contact Governor DeSantis
On Monday, March 7th 2022 the Senate passed HB 741. The bill now goes to the Governor's desk where it can become law with or without his signature. However, it can be stopped in its tracks by a veto.
Call or email Governor DeSantis and urge him to veto HB 741.
Script:
Hello Governor DeSantis,
I am a solar homeowner living in [insert town/city name].
I urge you to veto the anti-solar bill HB 741 when it comes to your desk for signature. Net metering is essential and helps make solar accessible to citizens like me. After all, this is the Sunshine State and 84% of Floridian's support this policy. Please veto HB 741. Thank you.
---
Stay Informed & Up to Date

The Florida legislative session is short but busy. You can stay informed of any updates on both bills by signing up to receive email alerts. Look for the yellow icon on the upper right hand corner of the page. You may need to create an account if you haven't already.
---
Write an Op-Ed or Letter to the Editor
Submit a letter to your local newspaper or publication and share your thoughts about net metering. Need some inspiration? Check out a recent letter published in the Sarasota Herald-Tribune by Brilliant Harvest Solar owner, Bill Robinson.
Potential Questions to Answer
Some Fast Talking Points to Pull From:
Submit Your Letter
What happens if these bills pass anyway?
---
While we are working hard to ensure that neither of these bills become law, SunFarm Energy is prepared. We are proud to offer a variety of battery storage products that can help significantly reduce reliance on the grid. With battery storage, you can get the most out of your solar PV system and maximize energy independence for years to come.
Whether you're installing a new system with battery or upgrading an existing array, we're here to help.
Have questions or concerns about net metering? We're here to help.
Please reach out to us via email, or give us a call at 850-472-0341.